About Belev Echad
Dear Friends,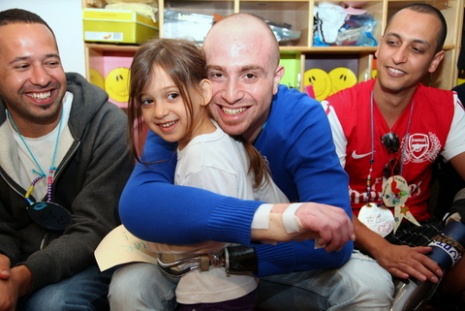 Founded in 2009, Belev Echad (One Heart) brings wounded IDF soldiers and victims of terror to New York for ten days of fun-filled sightseeing, heart-warming and joyous events with the New York Jewish community. The activities provide a therapy for their bodies and minds, and the bonds built with our community members turn into lasting friendships, forever uniting our hearts with theirs.
Belev Echad has met with enormous previous success. It has changed peoples lives. "As veteran Eitan Kariti put it at the close of 2010's program, "These were my happiest days since being injured..."
We feel that this program can make a small but memorable contribution to these heroes of Am Yisrael, who have quite literally put their lives on the line in the continued effort of securing Israel. 
The sacrifices that these men have suffered, the bullets they stomached, the shrapnel they absorbed, the loss of limb and mobility they endured – have all been borne on our behalf. We are all citizens of Israel. Offering our brothers an experience such as this one is one of the most gratifying actions we as a community can take. I hope you will see the value of joining us in this important effort.
Please support Belev Echad here.
Gratefully yours,
Rabbi Uriel & Shevy Vigler 
Please click here to see pictures, video and community feedback from previous programs.