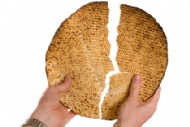 My five-year-old son likes to climb onto the kitchen counter and hang out there. Each time he does it, I take him down and explain that he could hurt himself. But no matter how many times I tell him it's dangerous, the very next day (or next hour!) he's climbs right back up.
Until this week.
You see, last week, when he climbed onto the counter, he actually fell and hurt himself. Since then, he hasn't done it. And it's pretty easy to understand why.
When I explain the dangers, he hears, but doesn't listen. He doesn't absorb and internalize what I'm saying. But when he actually falls and experiences the danger, now he understands.
In truth, we are all like my little five-year-old.
I had lunch with a group of four people last week, and they asked me to share some words of Torah. I spoke about gossip and explained that gossip is considered as severe as the three cardinal sins - murder, idolatry and adultery. We discussed the topic for close to 20 minutes.
Shockingly, just minutes later one of the people started sharing a juicy story about someone in his community, and they gossiped for the next 40 minutes. I couldn't understand it. We'd just finished discussing the severity of gossip, yet here they are gossping?
When I was in yeshiva, my mentor, Rabbi Zalman Gopin, often said, "If you come to hear you will not be affected, but if you come to listen you will absorb."
That's what happened at the lunch. Everyone heard, but no one listened. They didn't internalize it. It's natural. We hear hundreds of conversations daily, but we don't actively listen and internalize most of them.
But Judaism is different. It needs to be absorbed. When we hear words of Torah, we need to absorb what we are hearing. We need to actively listen and contemplate. Only then, can we truly understand and internalize what we have learned.
We're about the celebrate the beautiful, joyous holiday of Pesach - the time of our freedom. When we sit at the Seder, we're not just marking a historical event that occurred over 3000 years ago. We're experiencing and celebrating our current freedom in the 21st century.
When we sit at the Seder next week, and recite the entire Haggadah, let's make sure we actively listen so we can absorb its messages. Let's experience modern-day freedom, liberated from all enslavement, physical and spiritual.
We are instructed, "Remember the day that you left Egypt every single day of your life."
Don't just hear these words, listen to them!
May we celebrate together, in Jerusalem.