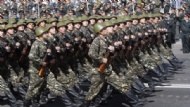 In 1999, I was a 19-year-old Yeshiva student, studying in Israel. I heard that Chabad in Ukraine was seeking volunteers to lead public Passover Seders in assorted communities throughout the country, and I immediately volunteered. I was young, full of energy, and excited to embark on this new and different mission. I travelled with approximately 30 other students, and we were looking forward to spreading the warmth of Judaism in a foreign country.
Looking back, I was also very naive. Coming from South Africa, I was used to living in a large house, with a swimming pool and three maids. Suddenly, I found myself in the city of Shepetivka, population 40,000, including 200 Jews, where indoor plumbing and electricity were either non-reliable or non-existent. Our bathroom was outdoors and we had hot water for only one hour per day. On the eve of Passover, the electricity shut down and we had to draw water from a well.
To put it simply, I was homesick. I missed the Seders at home, with my family, and I missed the modern conveniences I had been raised with. I was lonely and miserable and couldn't wait for the holiday to end.
I didn't understand why I was there; I didn't even share a language with the 200 local Jews! What were we accomplishing? What value did our Seder have to these Jews?
This week, I found my answer.
The world has been watching the political situation in Ukraine very closely. Vladimir Putin sent troops to invade Crimea and Ukraine is mobilizing its army as a result. This is the biggest crisis since the end of the Cold War. The region is tense and other countries are watching closely to see how things will play out. And all of this upheaval, was brought about arguably by a single act of a young Ukrainian protester.
After civil unrest erupted, then-president, Victor Yanukovych and opposition leader Vitaly Klitschko signed an agreement to end the protests and hold a new, democratic election. But one individual, Volodymyr Parasiuk, made an impromptu speech, rallying the protesters and convinced them not to settle. The rest is history. Yanukovych was forced to flee and an urgent state of unrest continues.
Judaism teaches that the power of goodness is infinitely greater than the power of evil. If a single act can bring Ukraine and Russia to the brink of war, imagine how much more a single mitzvah can reverberate throughout the world.
That's what I accomplished that Passover. I remember the Seder clearly. I didn't speak a single word of Ukrainian, and my translator apparently didn't understand a word of English! But the basics, we were able to communicate. When it was time to eat matzah, everyone ate matzah. When it was time to drink wine, everyone drank wine. And everyone understood that we were there to celebrate the freedom of the Jews. So, 200 Ukrainian Jews had a Seder that year. That's what I accomplished.
Fast forward 15 years to 2014 and Judaism in the Ukraine is flourishing.
Ukraine is home to 450,000 Jews, including 170 rabbis serving 154 communities. This impressive network boasts 49 educational centers, 7 orphanages and 32 soup kitchens, as well as synagogues, mikvahs and community centers.
However, the Jewish population of Ukraine is currently living in real fear. The economy has collapsed and business has come to a standstill.
Chabad is at the forefront of caring for the Ukranian Jewish community during this crisis. Despite the real danger, rabbis and their families are selflessly leading their communities, providing a comforting shoulder, emergency aid and inspiration in these trying times.
Today, more than ever, they need our support. Please click here to donate and help the Jews in Ukraine.
We know how much power a single act can have; how much it can accomplish. We may be far from Ukraine physically, but we have two mitzvot which can significantly help our brethren there: tzeddakah (charity) and prayer.
So let's take a minute to send a contribution, and pray for the safety and wellbeing of our brothers and sisters in Ukraine. Do that one good deed that will bring nuclear powers to peace and usher in the era of Moshiach.