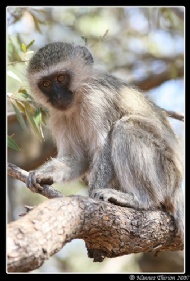 I just got back from a wonderful trip to South Africa. While there, we visited the Pilanesberg Safari, spending several days in the wild, where we could see lions, buffalos, zebras, giraffes and other animals living in their natural habitat. What an awe-inspiring experience! It's a fantastic way to shut off from the rest of the world and really get in tune with nature and oneself.
At night we slept in chalets, and on our first morning we awoke to the sound of the door being rattled from the outside; someone was trying to get in. I grew up in South Africa when there was lots of crime, so I immediately assumed a thief was trying to break in. I called out, "Who's there?" but received no response. We opened the door and, lo and behold, a giant ape was standing right on our doorstep! Another 50 or so monkeys were roaming around the camp ground looking for food, and we soon discovered that they'd broken into another chalet and helped themselves to the food they found inside.
That group of monkeys seemed to follow us around for the next couple of days, and even when we went indoors they would come right up to the windows. But when I asked the staff if we could give them some of our leftovers, they pointed to the signs all over the camp - "No Feeding the Monkeys." They explained that if the visitors were allowed to feed the monkeys, soon they'd get used to being given food and would eventually stop being able to fend for themselves. Ultimately, we would be killing them. Although feeding them seems kind, it would actually be cruel.
We are currently in the Jewish month of Elul - the month preceding Rosh Hashanah. During this period, we blow the shofar every day to awaken our souls and remind us to repent in preparation for Rosh Hashanah and Yom Kippur, when G-d will judge the world and determine our future.
It's a time to reflect on our behavior, accomplishments and spirituality over the past year and resolve to correct our misdeeds. It's a time when we have to do the work ourselves. No one can "feed" us. No one can change our behavior for us, no one can wipe the slate clean for us.
Sometimes we wish G-d would reveal Himself to us, give us a sign He is watching over us. It would be so much easier to keep kosher, put on tefillin and observe Shabbat if we could see His presence. But no. No feeding the monkeys! G-d wants us to do it entirely ourselves.
Only when we do the hard work on our own will we truly be ready to receive all the blessings G-d grants us over the High Holidays. We must spend the current month, Elul, fashioning ourselves into vessels worthy of receiving His blessings.
This is the time carefully analyze our behavior over the past 11 months and take the time to recommit to our Father in Heaven. We have two weeks left. Let's make the most of them.