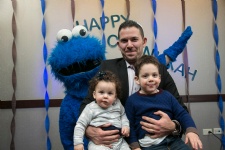 "Selfie" has been named word of the year by the Oxford Dictionary. But America's selfie obsession reached a new low this week when a woman snapped a cell phone picture of herself, capturing a suicidal man about to jump off the Brooklyn Bridge in the background.
In response, the 92nd Street Y, together with the United Nations Foundation, initiated a campaign called #GivingTuesday to encourage people to stop being so self absorbed and start thinking of others.
#GivingTuesday is a reminder that, at this time of year when we are so busy buying gifts for the holidays, we should also give time and money to some of the non-profit organizations who are doing so much good in the world.
This week we celebrated our annual Chanukah party at Chabad Israel Center, and we had cookies galore. We built an entire menorah out of cookies baked by the children in alef-bet preschool. And to make the cookie experience even more exciting, we had a cookie monster! My good friend Matthew Stock wore the cookie monster costume and all the children were able to take pictures with him. For the kids, it was easily the most exciting part of the party.
Except, that is, for my two year old son, Zalman, who was terrified! I've never seen him so afraid. As soon as he looked at the cookie monster, he started shaking. A few other kids were also scared. Even when Matt lifted up the costume so Zalman and the other kids could see it was really him in a costume, it didn't help. The kids weren't able to see beyond the disguise.
In this week's Torah portion we read about Joseph and his brothers. When the brothers looked at Joseph, they saw an Egyptian viceroy. They were unable to recognize that under the clothes and power, he was their long lost brother. When Joseph finally revealed himself, they were so shocked and embarrassed (for selling him into slavery 22 years prior) they couldn't respond.
Our sages teach us that the shock and embarrassment the brothers felt is the same shock and embarrassment every single one of us will feel when we stand in front of the Heavenly court, after 120 years.
You see, our bodies are merely a costume disguising our souls.
On the surface, we are all "selfies." We think and care primarily about ourselves.
But that's only a disguise. When we dig deeper and further, we discover the "UNselfie," the soul - an utterly non-selfish entity. The soul is part of the Divine and cares deeply about spirituality and G-dliness.
So, let's hop on board the "UNselfie" trend. All we need to do is peel away the layers until we uncover our inner "UNselfie," our soul. Then, when it's our turn to stand in front of the Heavenly court, we won't be embarrassed of our sins. We'll have a stack of "UNselfie" images to show off - all the kind and selfless deeds we've ever done.